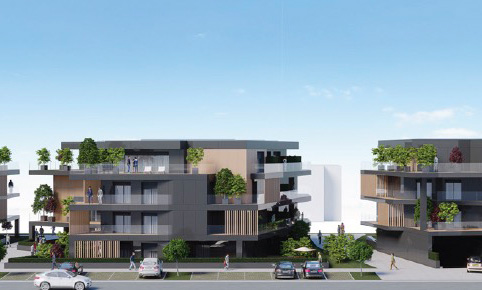 The project is composed of 4 buildings distributed as follows in housing, offices and shops, small spaces open to the public are added to it. in co-ownership. The first building, named "RENATO-FAEH TOWER", will be exclusively composed of offices.
The second, called "SMERALDO", will include a commercial area at first floor, and 21 apartments distributed from R+1 to R+3. The third building, named "DIAMOND", will be composed of 22 housing units distributed from first floor to the R+3. The fourth building, named "ZAPHIRO" will be composed of 21 apartments distributed from the first floor to R+3.
Offices surface
1000 m² Surface of the trade: 673 m². 64 housing units for a surface total living space of about 4,848 m². 235 parking spaces.
Architectural choice
Modern architecture, seductive but sober, these spacious and luminous volumes opened by large bay windows, make this project a real success, exceptional residence. Its modern facades tinted glass combined with wood cladding to clear path, brings to the project a high standing distinguishing it from other projects.